Tis the season! It's time for inflatable snowmen, Christmas trees and--our personal favorite--holiday lights. From flashy hues of green, red and blue to the classic, clean strands of twinkling white, holiday lights can give any home a truly festive feel. But how do you hang string-lights without causing damage to your home's exterior? Read on to find out how.
Make a List
Grandpa always swore by the Three P's: Proper. Prior. Planning. As with any home project, being prepared is critical. We like to make a list of everything we'll need before we get started. Here's a list we made to help get you started:
A Ladder:

if you're planning to hang lights on your gutters, gutter guards, or using your shingles, you'll need a ladder tall enough to safely reach those high points of your home. We also encourage you to use the "buddy system" here, too. Remember: safety first!
Power Supply: where are your outlets located on the exterior of your home? Are they easily accessible? If not, you may need to purchase extension cords to manipulate the position of your power supply. You can even get additional add-ons for your power supply, like a timer to turn your lights off and on. (We'll build on this a bit more later.)
Lights:

duh, we know. But, make sure you know just how many light strings you'll need to cover the area of your home you're trying to decorate so you don't come up short, and that your lights are UL approved for outdoor use. We speak from experience!
Clips:

though using a staple gun and heavy staples will effectively secure your lights to your home, they can also cause damage to the protective coating of your lights and lead to a major electrical issue. Not to mention, staples leave tiny holes in your siding and trim--and no one likes that. We'll talk a bit more about the different types of clips available out there for hanging your lights shortly.
A Date:

pick a day where you can dedicate ample time to completing your project. Properly hanging holiday lights can take some time, but the results are worth it. (Pro Tip: when considering a date, check the weather forecast. Hanging lights in the rain or snow is not only silly, but it's also dangerous. Plan ahead!)
You've Got the Power…
… or do you? Before you begin hanging your lights, you will need to locate the most convenient power source for the project. In most cases, you'll want to look for an outside outlet--typically located on your front porch or around your garage. In older homes, you may not have any exterior outlets to use. If that's the case, it may be more difficult to run power to your lights. You can opt to run power from the inside of your home using an extension cord, invest in a wireless power source, or--if you're feeling really fancy--you can even purchase battery powered, wireless lights. But remember: safety first! Make sure your power source (cords and battery packs) are meant to be used outdoors!
Pro Tip: if you want to put your holiday lights on a schedule, we recommend using a lighting timer. There are many options available for outdoor use, and they're simple to use. Just set the times you'd like your lights to turn on and off, and enjoy the show!
Look at all the Pretty Lights!
Seriously. Check them out. Choose the lights that will work best for your home. If you don't have an outdoor power supply, you may want to use battery-operated lights. If your home is surrounded by shrubberies, you may want to invest in some net lights to dress them up. And of course, there are about a million color combinations and styles out there to choose from. Icicles, blinking lights, colored lights, white/clear lights, projectors--the list is seemingly endless. Take your time, make your choice--and please remember: your lights must be suitable for outdoor use! We cannot stress this point enough.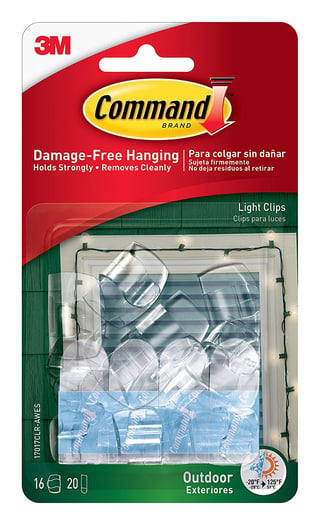 Now, Let's Talk Clips
As we mentioned earlier, we recommend using clips to attach your holiday lights to your home's exterior. Though staples (which are used more often than you may think) are effective, they can also cause damage to your lights and your home--leaving holes in your siding or trim, and/or puncturing the lining of your light strands leading to a possible electrical issue. Using clips will give you more flexibility to position (and reposition) your lights without causing damage, and without breaking the bank.
There are several clip options available out there, all of which can be purchased at major retailers like Home Depot, or even online via websites like Amazon. It's important to remember that the clips you choose will depend on how you plan to anchor your lights. Will you be using your roof shingles or gutters? Do you have gutter guards installed on your gutter system? Your answer will help you choose the right clips--and we're here to guide you:
Multi-Purpose Clips
Most traditional, multi-purpose light clips are designed to easily attach under your roof shingles or to your gutters without causing damage to your home's exterior (like the fascia, siding, or trim). These clips slide smoothly under the edge of your shingles, or onto your gutter (without gutter guards!), allowing you to attach your bulbs and position them as desired. There are many brands, colors, sizes, and styles out there but most work exactly the same.
Adhesive Clips
We love adhesive clips! For homes that have gutter guards installed, the standard clips outlined above won't cut it. Though some brands will claim those clips are safe to use on gutter guards, we do not recommend it. This requires you to lift the lip of your gutter guards to secure the clips--which can compromise the system, and even render your warranty useless. Don't take the risk! Use these adhesive clips instead. They're water resistant, so they're safe for outdoor use, and they're extremely cost effective. Best of all? They stick securely to your gutter guards, and can be easily (and cleanly) removed when it's time for your lights to come down.
Finally, Don't Be Clark Griswold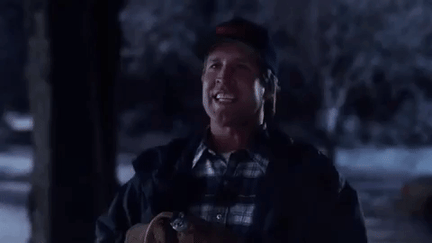 Have you ever seen National Lampoon's Christmas Vacation? If so, you'll remember Clark Griswold and his hilariously-disastrous holiday display debacle. He didn't check his power source, he didn't check his light strands, he didn't use the buddy system, and he certainly didn't practice the Three P's!
Check your power source, make sure your light strands are in working order, don't climb on your roof (or even your ladder) without a buddy around, and make sure the weather is right for your holiday lighting project. Don't be Clark Griswold, guys. You'll thank us later.